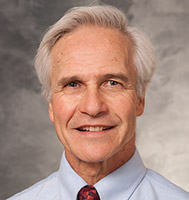 Congratulations to Dr. Paul Sondel and his research team as they were selected to receive $250,000 from Hyundai Hope On Wheels and Madison area Hyundai dealers. Since 1998, "Hope on Wheels" has donated more than $72 million to researchers who are working to fight childhood cancer.
Sondel's team will use the grant to take the next laboratory research steps in the innovative immunotherapy treatment they have helped pioneer in the current treatment of neuroblastoma. Neuroblastoma, a cancer of young children, remains difficult to treat; the survival rate for high-risk neuroblastoma without immunotherapy is less than 40 percent. The addition of immunotherapy has boosted survival by 20%.
Immunotherapy is designed to "mop up" cancer cells that are left behind after traditional treatments like surgery, radiation and chemotherapy. The immunotherapy treatment is given intravenously and consists of a monoclonal antibody that binds to neuroblastoma. This then attracts white blood cells to the tumor to destroy remaining cancer cells, particularly when the white blood cells are stimulated with activators, including IL2.
The next phase of the research will use a genetically-engineered antibody that is linked to IL2, which will be directly injected into the tumor. In addition, researchers will add a separate treatment called checkpoint blockade to boost the white blood cells that are already reacting against the cancer. This Hyundai grant will allow this new approach to be tested and developed in mice.
"Our team is grateful to Hyundai for recognizing the potential significance of this research strategy," said Sondel. "Depending upon what we learn about the best combination of approaches from this laboratory study, this research could move into clinical trials for children with neuroblastoma."