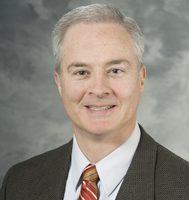 James Conway, MD (Professor, Division of Infectious Diseases and an associate director at the University of Wisconsin Global Health Institute [GHI], is the director of the new Office of Global Health at the University of Wisconsin School of Medicine and Public Health (SMPH).
The new office has a goal of better serving faculty, staff, students and health care providers in the health sciences programs. It will be located in room 1191F in the Health Sciences Learning Center.
Chris Olsen, DVM, PhD, also a GHI associate director, continues to lead the Graduate • Professional • Capstone Certificate in Global Health Program. Programs Coordinator Betsy Teigland, BSN, will continue to manage the certificate program and other international educational opportunities for health science students.
"[The] SMPH has a long history of leadership in global health on this campus and around the world," Conway says. "This helps clarify and organize our activities with SMPH while maintaining our ties to cross-campus global health efforts."
The new office is dedicated to working closely with the health professional programs in the SMPH and the schools of Nursing, Pharmacy and Veterinary Medicine. It is the focal point for graduate and professional global health experiences, from the certificate program to interdisciplinary field courses, service-learning opportunities, international clerkships and the Medical Spanish course. Information about these opportunities can be found at education.ghi.wisc.edu.
The office will continue to work closely with GHI to organize and promote global health education, research and outreach opportunities, including the annual Global Health Symposium.