In recognition of their efforts to improve the health of Plain families in Wisconsin, Christine Seroogy, MD, and colleagues on the Wisconsin Plain Community Project received a 2017 UW-Madison Community-University Partnership Award from Chancellor Rebecca Blank on June 28, 2017.
The award recognizes the work of UW-Madison faculty, staff, students—and their community partners across Wisconsin—as they address pressing public issues in Madison and the region.
Founded in 2012 as a collaboration between the La Farge Medical Clinic (medical director: James DeLine, MD) and Department of Pediatrics faculty, the Wisconsin Plain Community Project aims to improve access to culturally sensitive, high-quality, affordable care for Plain families.
In 2015, Dr. DeLine founded the Center for Special Children as a dedicated space within the clinic for the care of children with genetic conditions. This achievement represented the culmination of the collaboration's vision.
The collaboration has continued to improve the health of Plain children in Wisconsin, and has also translated to biomedical research projects, informed approaches to medical care for all children, and improved the educational experience of students on campus.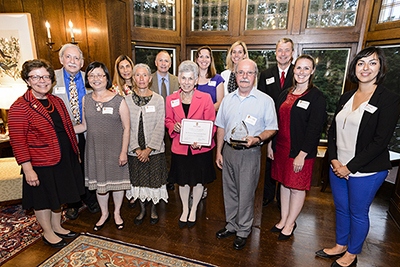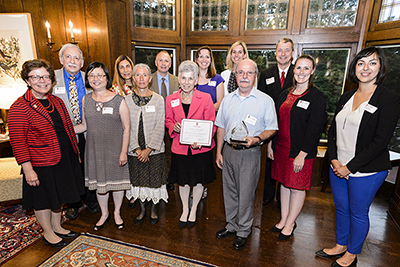 Back row, from left: Murray Katcher, MD (UW Department of Pediatrics); Christine Seroogy, MD (UW Department of Pediatrics); Gregory Rice, MD (UW Department of Pediatrics); Jessica Scott-Schwoerer, MD (UW Department of Pediatrics); Jennifer Laffin, PhD, FACMG (UW Department of Pediatrics); Kyle Bakkum (Vernon Memorial Healthcare CEO)
Front row, from left: Rebecca Blank (UW-Madison chancellor); Mei Baker, MD (UW Department of Pediatrics); Gretchen Spicer (LaFarge Medical Clinic, Vernon Memorial Healthcare); Ellen Wald, MD (UW Department of Pediatrics chair); James DeLine, MD (LaFarge Medical Clinic, Vernon Memorial Healthcare); Ashley Kuhl, MS, CGC (UW Department of Pediatrics); Leslie Orrantia (UW-Madison director of community relations)
Photo by Bryce Richter, University Communications