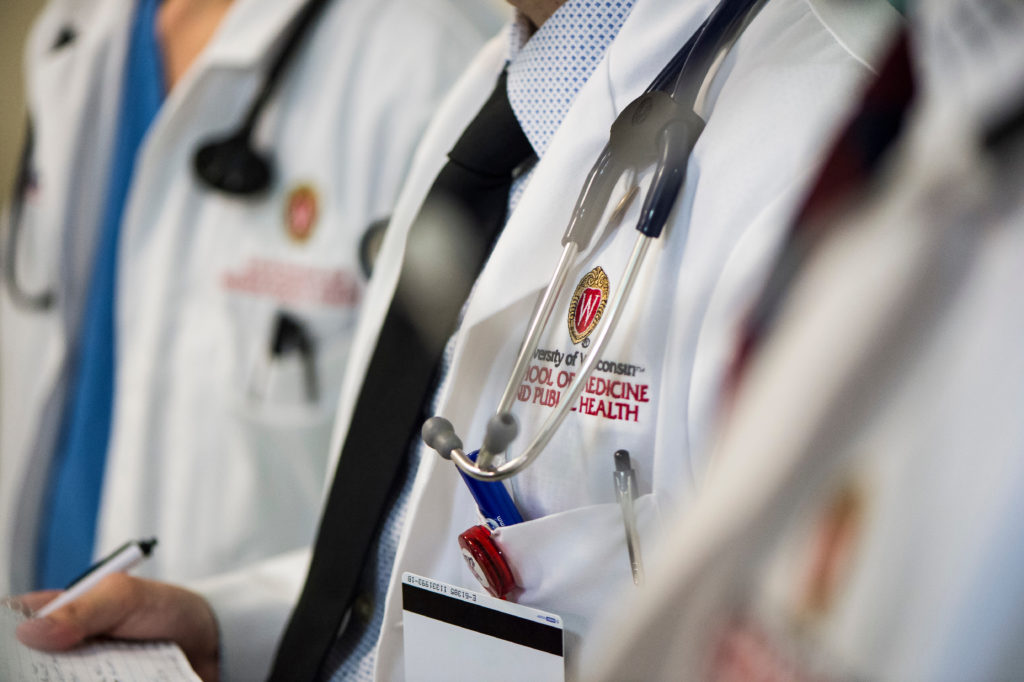 In Celebration of National Doctor's Day, UW Health offered an opportunity for people to submit notes of gratitude to their physician. Over seventy notes were received from families and patients who are served by Department of Pediatrics faculty. We're proud to share excerpts of some of them here.
Allergy, Immunology & Rheumatology
For Dr. Judy Smith: Thanks for everything you do for our son and our family. We've had a rough few years but having a wonderful, caring team led by you has made it easier to handle. We are so grateful for you and everything you do. Thank you, Dr. Smith!
Cardiology:
For Dr. Catherine Allen: Dr. Allen has always made us feel as though we were family by always taking the time to explain everything and answer any questions we have.  Her bedside manner with our son is superb and we feel so comfortable and blessed knowing he is receiving top-notch care from a top-notch professional.  Thank you, Dr. Allen!
Endocrinology & Diabetes
For Dr. Ellen Connor: Since my diagnosis of Type I diabetes twelve years ago, Dr. Connor has always been there for me and my family. Through her guidance and compassionate care, I have learned to manage my condition. Her influence on my life has inspired me to pursue a nursing career so that someday, I will also be able to make an impact on future patients. Dr. Connor, thank you for your dedication to providing excellent care and going above & beyond to ensure the health of all of your patients. You are appreciated!
Gastroenterology & Nutrition
For Dr. Istvan Danko: Thank you for being a part of our daughter's specialty team! Since she was diagnosed with Celiac disease, you have been there with us to educate and help us to give her the best life she could have. We appreciate your wisdom and care that you have shown us.
For Dr. Luther Sigurdsson: Thank you for all you do! Your collaborative approach to the short gut clinic made a huge difference in those early days tackling difficult vitamin deficiencies and weaning off g-tube feeds. We are also grateful that we have been able to see you at a clinic closer to our house for our daughter's follow-up care.
For Dr. Dorota Walkiewicz: I am at a loss for words for how to adequately thank you & the entire Pediatric GI team for your care of my son this summer. You gave him his future. You bought him time. You could have taken the easy route, for you, but you didn't. I didn't fully understand it in the moment, but I do now. All of those sleepless nights (for me & your team), were necessary for him to lead a normal life now & in the years to come. From the bottom of my heart, thank you!
General Pediatrics & Adolescent Medicine
For Dr. Gwen McIntosh: How could I not thank my primary care doctor of over 15 years? Thank you so much for all the attention and care you have given me and countless other patients. In appointments, you never make me feel rushed and always answer all my questions. You go the extra mile every time and I appreciate you so much! I could not ask for a better primary care physician.
For Dr. Catherine Kelley: Thanks Dr. Kelley for being an amazing doctor. We've been through many ups and downs over the almost 16 years (time flies!) and having you as a pediatrician has really made it easier for my kids and for me. We enjoy the check-ups and have complete confidence and trust in you. How lucky are we to have you for a doctor!? Thanks for everything Dr. Kelley!
For Dr. Timothy Chybowski: Thank you for being Alyssa's pediatrician all of these past years! You have always been supportive of our goals and needs to take the best care of Alyssa as we can. We appreciate all of your efforts in helping us to give Alyssa the best life she could experience.
Genetics & Metabolism
For Dr. Gregory Rice: Dr. Rice, I am so grateful that you are my doctor. I tell everyone about how you explain everything & help me understand my illness. I couldn't be in better hands. Thank you!
Hematology, Oncology & Bone Marrow Transplant
For Dr. Christian Capitini: Thank you for being the most brilliant, caring and understanding doctor for our son. When it seemed like he had no other options, you helped save his life and he is here almost seven years later. Thank you for listening to my craziness and knowing how to calm me down. You are a part of our family and we are thankful to have you.
For Dr. Carol Diamond: My daughter was 14 months old when I was first introduced to Dr. Diamond. She came in the room almost as an angel and in one clinic visit gave me hope and comfort to finding out what was wrong with my daughter who had been very sick since she was born.  Shortly afterwards, Dr. Diamond diagnosed my daughter with a very rare bone marrow condition. While it has still been a hard road, Dr. Diamond held my daughter's and my hand every step of the way. Not only is she a great provider in every way, she truly cares for her patients, takes time to listen, and truly wants to help. I'm forever thankful to have had the blessing of this women caring for my daughter. I cannot thank her enough for giving my daughter her life back and for saving my little girl. Thank you. I am forever grateful.
Hospital Medicine:
For Drs. Ryan Coller and Mary Ehlenbach: Thank you for being an integral part of my daughter's care and well-being! She has had a life filled with medical twists and turns, but having a team like Complex Care helps to make things cohesive with her numerous other specialists.  Thanks for all that you do on a daily basis.
Neonatology & Newborn Nursery
For Dr. David McCulley: Thank you for all of your hard work today and every day. Thanks to you Connor is able to live a normal life and has become an amazing, smart, independent, beautiful three-year-old thanks to you. She was in the best hands as she recovered from her diaphragmatic hernia. We are forever grateful. Stay safe and keep taking care of all those families that need you!
Nephrology
For Dr. Sharon Bartosh: Thank you Dr. Bartosh for everything you have done for our son. He's alive and healthy because of your expertise and compassion. We are extremely grateful for everything you have done for our little boy.
For Dr. Neil Paloian: We are so thankful for you. You are an amazing doctor. We know that our son is in very good hands. Thank you for always listening and never giving up. Our son is lucky to have you as his nephrologist.
For Dr. Allison Redpath Mahon: Thank you, Dr. Redpath, for always being a voice of calm and reason since day one with caring for our beloved son. We appreciate everything you have ever done to help keep our beloved little boy alive and kicking. Thank you!
For Dr. Michael Semanik: Thank you, Dr. Seminek, for always going above and beyond to make our son feel at ease during his numerous hospital visits. We appreciate everything you do to keep our little guy healthy and happy!
Pulmonology & Sleep Medicine
For Dr. Vivek Balasubramaniam: Thank you, Dr. B, for the vast improvement you've made in our son's lung function! Because of you, my child has a whole new life with lungs that are able to keep up! I am forever thankful for your brilliance, compassion, determination, & thorough care.