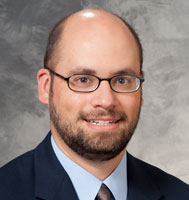 Christian Capitini, MD, is leading a new clinical trial that will test a promising method of immunotherapy for children with relapsed acute lymphocytic leukemia (ALL).
The multi-site trial just opened at the University of Wisconsin Carbone Cancer Center and American Family Children's Hospital. The experimental immunotherapy, named CTL019, was first developed at the University of Pennsylvania.
In the therapy, patients' T-cells are extracted and reprogrammed to express a chimeric antigen receptor that, after reinfusion, may detect and potentially destroy leukemia cells.
The therapy has been accelerated through the work of a "dream team" of academic institutions granted $14.5 million from Stand Up to Cancer and the St. Baldrick's Foundation.