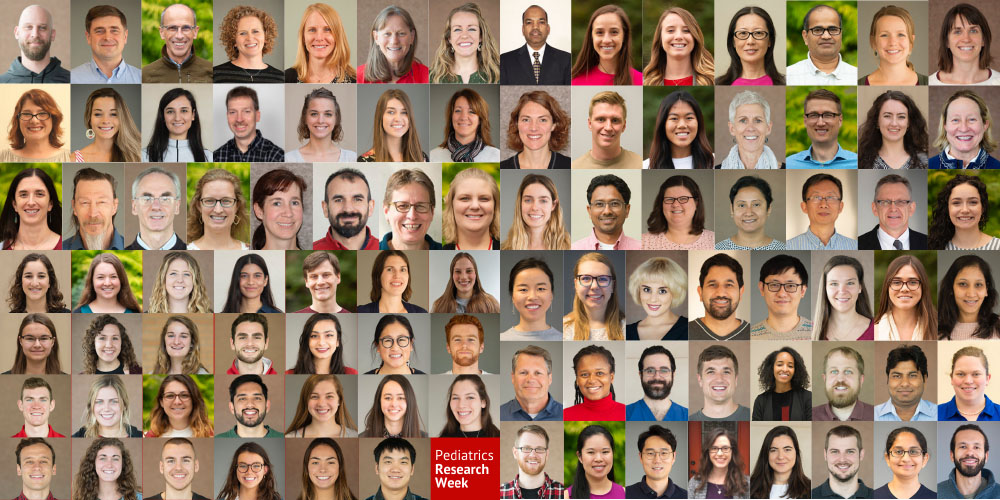 Four lectures, ten faculty research vignettes, six oral presentations, 52 poster presentations, and a cumulative total of 725 attendees made up the Department of Pediatrics' Annual Research Week, which took place virtually from May 26-29, 2020. The live-streamed format – which was in response to COVID-19 and physical distancing guidelines ­– expanded the annual celebration of scholarship beyond the walls of the Health Sciences Learning Center and allowed members of the School of Medicine and Public Health community and anyone interested in the latest advances in pediatric research to attend the lectures and earn up to 9.5 CME credits. Nearly 100 individuals attended the presentations each day, with 125 individuals attending Thursday's distinguished Gerard B. Odell Lecture and Pediatric Grand Rounds and close to 140 people attending the virtual poster presentations on Friday.
Tuesday's Opening Lecture was presented by Drs. James Gern (Vice Chair of Research, Professor & Division Chief, Division of Allergy, Immunology and Rheumatology), Megan Moreno (Vice Chair of Digital Health, Professor & Division Chief, Division of General Pediatrics & Academic Medicine), Michael Semanik (Assistant Professor, Division of Nephrology) and Kristin Shadman (Associate Professor, Division of Hospital Medicine). The lecture was titled "What Everyone Needs to Know About Quality Improvement, Informatics and Turning an Idea into a Project." Anne Marie Singh, MD (Associate Professor, Division of Allergy, Immunology and Rheumatology) presented the Morning Conference Lecture on Wednesday and discussed research as a career choice.
Thursday's distinguished Gerard B. Odell Lecture and Pediatric Grand Rounds was given by Katryn Furuya, MD (Professor, Division of Gastroenterology, Hepatology & Nutrition), who discussed her research into pediatric liver disease and how whole exome sequencing, genetic testing and treatments have dramatically changed researchers' understanding of the liver diseases that affect children. Ellen Wald, MD (Chair & Professor, Department of Pediatrics) presented Pelin Cengiz, MD (Associate Professor, Division of Critical Care) with the Gerard B. Odell Research Award, which is given annually to a professor in recognition of their outstanding research accomplishments and demonstrated potential for future contributions.
Thursday also included the first-ever Faculty Research Forum, which featured ten research vignettes from Department of Pediatrics faculty who were asked to describe one of their favorite projects. The following presentations were given:
"Quantitative Imaging of the Developing Brain" (Doug Dean III, PhD)
"Neutrophils in host defense balance with inflammation" (Anna Huttenlocher, MD)
"Molecular Testing in Newborn Screening: How Far We′ve Come" (Mei Baker, MD)
"Antibodies from Mice Cured of Melanoma Identify >3000 Antigens; Several Are Homologs for Proteins Found in HLA-Clefts on Human Neuroblastomas" (Paul Sondel, MD)
"Developing Precision Medicine and Personalized Nutrition in the Treatment of Cystic Fibrosis" (HuiChuan Lai, PhD, RD)
"Hypertrophic Cardiomyopathy Heterogenity: The Quest to Reduce Uncertainty" (Carter Ralphe, MD)
"Combatting Racial Inequities in Infant Mortality" (Jasmine Zapata, MD, MPH)
"Effect of Virus Detection on the Level of Nasal Cytokine During Symptomatic Upper Respiratory Tract Infection" (Greg DeMuri, MD)
"BedsideNotes: Parent Experiences Reading Inpatient Notes at the Bedside" (Michelle Kelly, MD)
"Underlying Mechanisms and Novel Treatments for the Prevention of Asthma Exacerbations" (Dan Jackson, MD)
On Friday, May 29, Dr. Cengiz gave the Research Week Keynote Lecture and discussed her life journey and current research activities. Dr. Cengiz's talk was followed by six oral platform presentations:
"Shared Plans of Care for Children with Medical Complexity: A Quality Improvement Project" (Natalie Tedford, MD, PL3 Resident)
"Donor Breast Milk versus Formula for Hypoglycemia Treatment in a Newborn Nursery" (Allison Heizelman, MD, PL3 Resident)
"Effect of Adjunctive Corticosteroids on Outcomes in Children with Severe Septic Shock: A Propensity Weighted Analysis" (Nicole Kamps, MD, PGY 5 Fellow)
"Atopic Dermatitis Phenotypes and the Subsequent Development of Atopic Diseases in a High-Risk Birth Cohort" (Mohamed Taki, MD, PGY 4 Fellow)
"Training Nursing Staff to Place Peripheral IVs Under Ultrasound-Guidance Improves Efficiency in a Pediatric Procedural Clinic" (Megan Peters, MD, Assistant Professor)
"Increase in Preterm Neonatal Renal Tissue Oxygenation After Caffeine Administration" (Matthew Harer, MD, Assistant Professor)
The virtual poster presentations also took place Friday afternoon. Department of Pediatrics faculty, staff, residents and fellows submitted and presented over 50 research abstracts, which were organized into five categories: Translational Mechanisms of Disease, Social Media & Advocacy, Quality Improvement, Care Delivery, and Translational Research. Also on Friday, Dr. Wald issued a public statement of gratitude for the department's research staff and their direct involvement in generating new knowledge to improve the health of children.
The 2020 Research Week Planning Committee included Jim Gern, MD, John Frohna, MD, Emily Ruedinger, MD, Dan Sklansky, MD, Reva Finkelman and Kim Stevenson. Bob Gordon and Ben Plunkett were also directly involved with the conference and were key to making the virtual poster presentations possible.