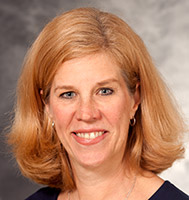 In a recent ESPN Wisconsin article, Amy Plumb, MD, discussed the challenges of caring for Kellan Meinke, a medically complex child who requires total parenteral nutrition to survive.
More so than any other patient, there's a lot of people who are in pretty constant contact about him and about what to do next, she said in the article.
Kellan and his family recently spent a respite weekend with the Green Bay Packers, thanks to the Make-a-Wish Foundation. Kellan's mother refers to Dr. Plumb as "the Aaron Rodgers" of his medical team.