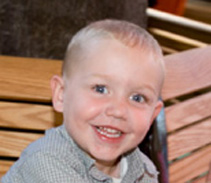 Tyler was the 8 1/2-pound, first-born child of a Baraboo, Wisconsin couple. His mother had a normal pregnancy and routine delivery, and after a standard hospital stay, the new family returned home.
But on the third day of Tyler's life, his mother became concerned. Tyler was not breastfeeding well and was difficult to arouse. His parents took him to a local hospital, where physicians thought he might have an infection or a metabolic problem.
Within hours, Tyler was desperately ill, and his heart function was very poor. He was transferred to American Family Children's Hospital, where he was placed on a form of cardiac bypass called extracorporeal membrane oxygenation, or ECMO.
Newborn Bypass Keeps Tyler Alive
During ECMO, Tyler's blood was routed through a machine, where it was oxygenated and recirculated to his brain and vital organs.
Pediatric critical care physician Tom Brazelton, MD, MPH, pediatric cardiologists Shardha Srinivasan, MD, and Kathleen Maginot, MD, plus nurses, respiratory therapists, and perfusionists comprised the sophisticated team coordinating the procedure.
A Rare Enzyme Deficiency Identified
While Tyler was undergoing ECMO, pediatric geneticist Gregory Rice, MD, found out that his newborn screen was consistent with a rare disorder called medium-chain acyl CoA dehydrogenase (MCAD) deficiency. Children with the disorder lack an enzyme needed to digest certain kinds of fat. If undiagnosed, MCAD deficiency can lead to coma and even death. Babies whose diagnosis is delayed run the risk of severe brain damage.
MCAD deficiency requires strict attention to what, and how often, the baby eats. It's a lifelong disorder, but once it's diagnosed, it can be managed easily.
The Importance of Newborn Screening
Tyler's disorder was detected through the battery of newborn screening tests performed on every child born in Wisconsin. In most cases, babies don't develop systems of MCAD deficiency until they are several months old. But Tyler's case was extremely unusual.
Newborn screening has been performed for 40 years, and Wisconsin has been on the forefront of this movement. Investigators in the Department of Pediatrics have helped identify some of the 48 disorders that are currently screened for. Even today, they are looking for additional diseases that can be identified through newborn screening.
Tyler is now a healthy little boy. Our clinicians' expertise, advanced technology, and statewide newborn screening efforts are why this miracle baby is alive today.