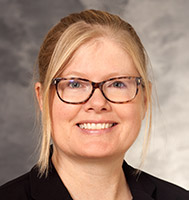 Department of Pediatrics Professor and Vice Chair of Digital Health Megan Moreno, MD, MSEd, MPH, is leading a new partnership between Facebook and the University of Wisconsin School of Medicine and Public Health to explore the relationship between teens' use of digital technologies and their mental and social health.
The research is part of Facebook's $1 million commitment to work with academics, experts and partners across the industry to further explore this topic. It will take place through Dr. Moreno's research group, the Social Media and Adolescent Health Research Team (SMAHRT).
The study, which began in the fall of 2018, will answer foundational and unanswered questions regarding youth, technology, and well-being and will contribute to evidence-based guidelines for healthy family digital use.
It aims to better understand the relationship between digital technology use and health and well-being of youth; understand the role of parents in their children's use of digital technology and well-being; assess effects of interventions on health and wellbeing; and understand real-time links between mood and social-media use behaviors.
Specifically, the first phase of the research includes a large-scale national survey of 5,000 teens and their parents about ways they interact with media. The survey will focus on measures of health known to be affected by media, such as sleep, physical activity, depression and anxiety, as well as measures of well-being, such as empathy and social connection.
Further recognizing that the relationship between mental wellness and technology use is underexplored, in 2018, the SMAHRT team also launched a new program, the Technology and Adolescent Mental Wellness (TAM) program. Through this program, they sought proposals to study the link between mental wellness and technology use among people age 10 through 24.
This program will fund up to six projects at a maximum of $200,000 for up to one year that address the foundational question: "How can technology support adolescent mental wellness?"
Applicants included higher education institutions, nonprofits, small businesses and other for-profit organizations, independent school districts, and faith-based, community-based or tribal organizations.
The program announced the first two recipients of TAM fast-start awards in March 2019: 1) We R Native, a comprehensive online health resource for Native youth, by Native youth; and 2) a team of public health and sociology experts at the University of Wisconsin-Milwaukee led by Celeste Campos, PhD, and Linnea Laestadius, PhD, MPP.