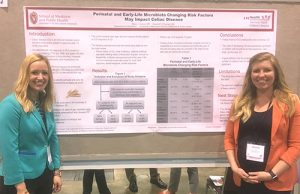 Department of Pediatrics residents had an outstanding showing at the 2018 Pediatric Academic Societies (PAS) meeting, held May 5-8, 2018, in Toronto, Canada.
They presented a record 12 poster presentations on a variety of topics, including:
Risk factors and socioeconomic indicators of iron deficiency anemia in children under age 5 in rural Imo State, Nigeria
Multidisciplinary approaches to pediatric obesity;
Continuity in resident clinics;
Documentation of adrenal insufficiency and the need for stress steroids in children with optic nerve hypoplasia;
The prevalence of Type 1 diabetes in adolescents with gender dysphoria;
Parental media rules and nighttime awakenings in adolescents;
Social media posting in adolescents at risk for depression;
Perinatal and early-life microbiota changing risk factors and their impact on celiac disease (poster pictured above with residents Alexis Gumm, MD, and Jennie Godwin, MD);
Interactions between risk factors for iron deficiency in newborns;
Continuity clinic reports as a quality improvement process;
Positive urine cultures in the NICU as a source of unnecessary antibiotic exposure; and
Islamophobia and mental health disclosures on social media among Muslim teens.
Department of Pediatrics Vice Chair for Education John Frohna, MD, MPH, attributes residents' academic productivity to receiving research mentoring earlier in residency.
For example, first year residents are provided a session to discuss early research ideas and strategies to identify mentors. In fall of the second year, residents are introduced to abstract writing and invited to consider submitting for a spring conference that year.
The PAS meeting is the leading event for academic pediatrics and child health research. It brings together researchers, academics, clinical care providers and community practitioners all focused on improving the health and well-being of children worldwide.