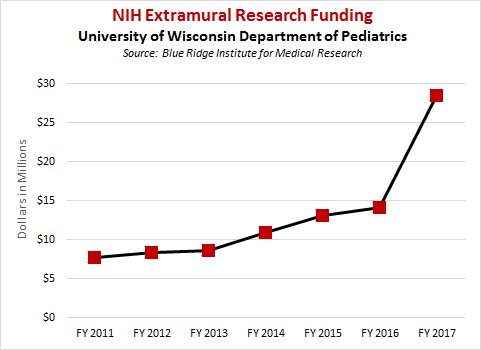 The University of Wisconsin Department of Pediatrics was ranked #6 of 88 medical school pediatric departments nationwide for National Institutes of Health (NIH) awards, according to data compiled and released by the Blue Ridge Institute for Medical Research (BRIMR).
The ranking reflects $28.5M in awards received during the NIH's 2017 fiscal year, which is October 1, 2016, through September 30, 2017. It includes the 32 awards for which department faculty are principal investigators.
This is the first time the department has ranked in the top 10 for NIH funds awarded. The BRIMR ranked the department 20th in NIH funding in FY 2016 and 18th in FY 2015, compared with 31st in FY 2012.
The ranking demonstrates the department's continued commitment to research excellence and the outstanding efforts of its investigators, despite a challenging and competitive funding climate.
Notable NIH awards in 2017 included:
The second year of Dr. James Gern's grant from the Office of the Director of the NIH for Children's Respiratory Research and Environment Workgroup (CREW). This national consortium of investigators from 12 asthma birth cohort studies is investigating how genetics interact with environmental exposures during the prenatal and early childhood years to cause specific subtypes of childhood asthma.
Funding for Dr. Megan Moreno's four grants, which focus on the impact of news coverage on bullying, the influence and policy implications of marijuana advertising in traditional and social media, how social media promotes adolescent indoor tanning and social media interventions to identify community-college students at risk for alcohol abuse.
The renewal of Dr. Marcel Wuethrich's grant from the National Institute of Allergy and Infectious Diseases. In this project, his team is characterizing and testing a novel adjuvant in vaccines against fungi, with the goal of developing new and better vaccines against microbial pathogens.
Dr. Bruce Klein's new two-year grant that focuses on hybrid histidine kinase as a drug target and path to anti-fungal drug development. Also, a graduate student in his laboratory, Richard Merkhofer, received a four-year fellowship grant to study the pathogenesis of fungal infectious disease in the Hmong population.
Dr. Ei Terasawa-Grilley's new two-year grant on optimization and characterization of stem cell-derived GnRH neurons.
We are thrilled by the news of this outstanding ranking and hope to remain in the top ten in future years as our research faculty build on their successes. Thanks to all of our investigators and staff for their hard work!
---
Note: We reported our FY16 NIH ranking as 19th in our department's 2016 report. This was based on data compiled and released by a different source that we have since learned is no longer providing ranking reports.