Department of Pediatrics faculty, former faculty, staff and friends joined the family of former Professor John Stephenson, MD, in a naming reception for the John Stephenson Teenage and Young Adult Clinic.
The reception was held Thursday, April 25, 2013, at the Waisman Center. In addition to the presentation of a plaque in Dr. Stephenson's honor, which will be installed in the University Station clinic, the event marked the launch of the Dr. John Stephenson Teen and Adolescent Fund.
Gifts made to the fund will support general pediatric research by a department faculty member or fellow, who will be named the Dr. John Stephenson Scholar for Pediatric Research.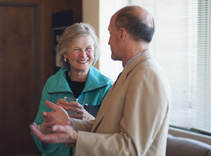 The reception kicked off with a welcome by Mark Lefebvre, the University of Wisconsin Foundation's senior vice president for principal gifts. Lefebvre shared personal memories of Dr. Stephenson, who founded the Teen and Adolescent Clinic in 1972 and believed it could be a "beacon for young people" at a crucial stage of life.
Later, Patricia Kokotailo, MD, MPH, professor and associate dean for faculty development and faculty affairs at the UW School of Medicine and Public Health, described Dr. Stephenson as an advocate for patients, and also a mentor for students, residents, and colleagues.
Finally, department chair Ellen Wald, MD, reflected on the department's history and accomplishments, and the many contributions Dr. Stephenson made to pediatric and adolescent medicine prior to his death in 2008. "It was such a natural and appropriate decision to honor John's memory in this way," she said.
In addition to serving as medical director of the Teenage and Young Adult Clinic, a role he held until his retirement in 1999, Dr. Stephenson also founded the Adolescent Alcohol Drug Intervention Program at UW Hospital and Clinics. He was also medical advisor to the Dane Country Juvenile Detention Facility and the Madison Metropolitan School District, and a staff physician for athletes at the University of Wisconsin Athletic Department.