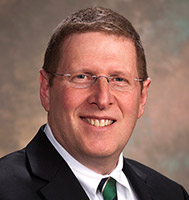 Education
BS, University of Wisconsin–Madison, Madison, Wisconsin
MD, University of Wisconsin School of Medicine and Public Health, Madison, Wisconsin
Residency, Pediatrics, Cincinnati Children's Hospital, Cincinnati, Ohio
Fellowship, Clinical Biochemical Genetics, University of Washington, Seattle, Washington 
Professional Activities
Dr. Robert Steiner is a clinical professor in the Division of Genetics and Metabolism. Locally, he is the Medical Consultant for Newborn Screening for Wisconsin's Department of Health Services. Nationally, he serves as editor-in-chief of Genetics in Medicine, an official journal of the American College of Genetics and Genomics (ACMG); he also serves on the ACMG board of directors. In addition, Steiner has been the Chief Medical Officer of a biotech start-up, director of a biomedical research institute, and Chief Medical Officer of a genetic diagnostic testing company. Author or co-author of more than 170 peer-reviewed original research articles, Steiner has also contributed to more than 90 reviews, book chapters, and letters on pediatrics, rare diseases, genetic diseases and genetic testing.
Clinical Interests
Steiner is a physician-scientist interested in inherited metabolic diseases, metabolic bone diseases, genetic testing, and newborn screening. He has longstanding clinical interests in phenylketonuria (PKU), Smith-Lemli-Opitz syndrome, cerebrotendinous xanthomatosis, and lysosomal storage diseases. His current clinical practice is focused on pediatric metabolic bone diseases, including osteogenesis Imperfecta, cystinosis, fibrodysplasia ossificans progressiva, hypophosphatemic rickets, hypophosphatasia, and osteopetrosis among others.
Research Interests
Steiner is a translational researcher with specific interests in neuronal ceroid lipofuscinosis (NCL), Smith Lemli Opitz Syndrome, and cerebrotendinous xanthomatosis. He is also part of a research team that is a member of the NIH-funded Impact of Genomic Variation on Function (IGVF) Consortium.