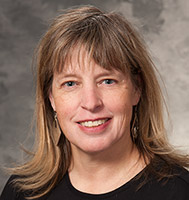 Education
BA, Harvard University, Boston, Massachusetts
MD, University of Chicago, Pritzker School of Medicine, Chicago, Illinois
Residency, Pediatrics, Boston Children's Hospital, Boston, Massachusetts
Professional Activities
Dr. Maria Stanley is chief and a clinical professor in the Division of Developmental Pediatrics and Rehabilitation Medicine. She also serves as medical director at the Waisman Center. In addition, Stanley is on the Board of Directors and was formerly president of the Down Syndrome Medical Interest Group-USA (DSMIG-USA). In the past, she was co-chair for the organization's Annual Symposium Committee and supported a webinar series for medical professionals. She actively supports the dissemination of knowledge to improve care for individuals with Down syndrome. 
Clinical Interests
Stanley's clinical interests focus on the care of infants, children, and adolescents with neurodevelopmental disabilities. She is particularly interested in the care of children with Down syndrome and other complex conditions that impact their health and development. Stanley is passionate about improving the care of children with autism spectrum disorders and other developmental disabilities. Additionally, she supports the health and development of high-risk neonatal intensive care unit (NICU) graduates, including children with complex feeding needs. 
Research Interests
Stanley conducts translational research that can directly improve the health of her patients. Her research interests include issues pertinent to Down syndrome, such as feeding difficulties, obstructive sleep apnea, and behavioral supports such as psychopharmacology. In addition, she has collaborated in research projects related to hypoxic-ischemic encephalopathy and to autism spectrum disorders.