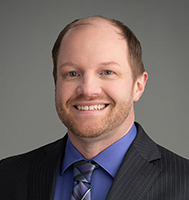 Education
BS, Iowa State University, Ames, Iowa
PhD, Michigan State University, East Lansing, Michigan
DO, Michigan State University,  East Lansing, Michigan
Residency, Pediatrics, Medical College of Wisconsin, Milwaukee, Wisconsin
Fellowship, Allergy and Immunology, Cincinnati Children's Hospital, Cincinnati, Ohio
Professional Activities
Dr. Eric Schauberger is assistant professor (CHS) in the Division of Allergy, Immunology, and Rheumatology and the program director of the Allergy and Immunology Fellowship in the Department of Pediatrics. Mentoring and teaching medical learners is an integral component of his professional work.
Schauberger has an affiliate appointment in the Department of Medicine.
Clinical Interests
Schauberger is a pediatric allergist and immunologist with expertise in penicillin allergy de-labelling and pediatric food allergy and asthma. He also provides comprehensive care to children with atopic dermatitis. 
Research Interests
Schauberger's research focuses on early life risk factors for asthma and allergy. In addition, he is a collaborator with the National Institutes of Health (NIH)-funded Children's Respiratory and Environmental Workgroup (CREW) and Systems Biology of Early Atopy (Sunbeam) studies.