Scott Hagen, MD
Position title: Professor, Associate Fellowship Director
Address:
Division of Critical Care
For Academic Inquiries: (608) 263-6878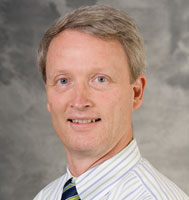 Education
BS, United States Air Force Academy, Colorado Springs, Colorado
MD, University of Wisconsin School of Medicine and Public Health, Madison, Wisconsin
Residency, Pediatrics, David Grant United States Air Force Medical Center, Fairfield, California
Fellowship, Pediatric Critical Care, Duke University, Durham, North Carolina
Fellowship, Clinical Medical Ethics, University of Chicago, Chicago, Illinois
Professional Activities
Dr. Scott A. Hagen is professor (CHS) in the Division of Critical Care. Beyond his clinical practice, Hagen focuses on improving clinical education. His areas of expertise include didactic education opportunities and the use of simulation to teach clinical ethics, global health, and ICU pathophysiology. In addition, Hagen serves as the ethics consultant for UW Hospitals and Clinics and the American Family Children's Hospital.  
Clinical Interests
Hagen is a pediatric intensivist interested in providing high-quality care to pediatric patients with cardiovascular disease and respiratory disorders. In addition, Hagen is an expert in global health and the care of pediatric patients in resource-limited settings. 
Research Interests
Hagen's research aims to improve the care of ICU patients who are "long-stay" or have chronic critical illnesses. His interest lies in helping families make medical decisions that are in their children's best interest.