Rachel Engen, MD
Position title: Assistant Professor
Address:
Division of Nephrology
For Academic Inquiries: (608) 265-6595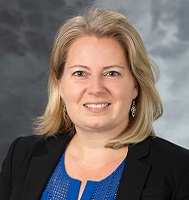 Education
BA, Northwestern University, Evanston, Illinois 
MD, Washington University in St. Louis, Saint Louis, Missouri 
Residency, Pediatrics, Cincinnati Children's Hospital Medical Center, Cincinnati, Ohio 
Fellowship, Pediatric Nephrology, University of Washington, Seattle, Washington  
MS, Epidemiology-Clinical Research, University of Washington, Seattle, Washington 
Professional Activities
Dr. Rachel M. Engen is assistant professor (CHS) in the Division of Nephrology. She serves as the medical director for pediatric kidney transplantation at American Family Children's Hospital and is the nephrology prenatal consultant for the UW Health Fetal Diagnosis and Treatment Center. In addition, she is the vice chair of the United Network for Organ Sharing Pediatric Transplantation Committee and is highly involved with allocation policy development. Engen is a member of the Society for Pediatric Research (SPR) and studies outcomes for pediatric kidney transplant recipients and the impacts of allocation policy on pediatric candidates. 
Clinical Interests
Engen is a pediatric nephrologist with clinical interests in chronic kidney disease. In her clinical practice, she focuses on maximizing quality of life and long-term outcomes before and after pediatric kidney transplantation. Engen provides guidance for the care of children with prenatally diagnosed kidney anomalies in her role as the nephrology prenatal consultant. 
Research Interests
Engen is a clinical researcher and member of SPR. She primarily studies long-term outcomes after pediatric kidney transplantation, with a focus on acute and chronic antibody-mediated rejection. She also has an interest in national organ allocation policy and its impact on the small but significant pediatric population.