Medical Education Scholars Day – February 2023
Date: Thursday, February 16, 2023
More information to come!
Medical Education Scholars in Pediatrics (MESP) is a monthly Regularly Scheduled Series for faculty and trainees to conduct research in medical education, viewing medical education as a primary focus for academic scholarship. These sessions are intended to foster collaboration and disseminate knowledge to promote scholarship in medical education. Success will be measured by the quantity of scholarly output in medical education per academic year and number of faculty seeking or successfully completing promotion with Education as a primary or secondary focus.
MESP is open to all members of the Department of Pediatrics. Please join the Zoom Link below and email Reva Finkelman, Professional Development Manager, at rfinkelman@wisc.edu if you would like to be added as a MESP member. You do not need to be a member to attend.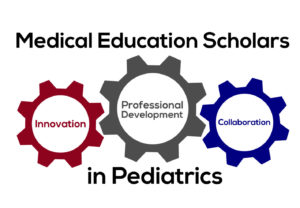 Related Events