Gilbert-Barness Lecture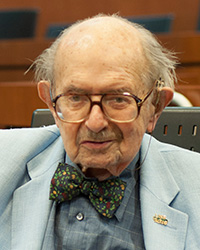 The Gilbert-Barness Lectureship, as designated by its endowment, invites University of Wisconsin medical community individuals who will provide state-of-the-art, contemporary information and ideas in the areas of pediatrics and pathology. The lectureship is co-administered by the Departments of Pathology and Pediatrics. The lectureship embodies the highest ideals of academics. It broadens the learning potential of both departments and will bring to the entire University community fresh ideas on which to contemplate.
Lewis A. Barness, MD, received his undergraduate and medical school training at Harvard. He completed his internship at Philadelphia General Hospital, a research fellowship at Children's Hospital in Boston and the Massachusetts Institute of Technology, and his residency at Boston Children's Hospital. From 1972 to 1988, Dr. Barness was Professor and Chairman of the University of South Florida, Department of Pediatrics, in Tampa. In 1987, he became visiting professor at the University of Wisconsin-Madison. During Dr. Barness's visiting professorship at Wisconsin, he endeared himself to students at all levels of training. He died in 2013.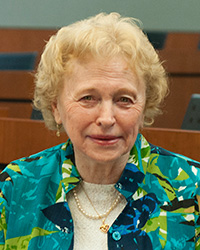 Enid Gilbert-Barness, MD, was born in Sydney, Australia. She received her bachelors and medical degrees at the University of Sydney and completed her residencies in pathology and pediatrics in London, Boston, and at the Children's Hospital of Philadelphia. She was a research fellow at the University of Pennsylvania and Children's Hospital in Washington, D.C. Prior to coming to the University of Wisconsin in 1970, Dr. Gilbert-Barness was on the faculty at West Virginia. At The University of Wisconsin-Madison, she was Professor of Pathology, Pediatrics, and Director of Surgical Pathology. Dr. Gilbert-Barness was nominated 16 times for the Preclinical Teaching Award while at the University of Wisconsin-Madison, was named Best Teacher of the Year by the second year medical students 7 times, and awarded the University of Wisconsin Distinguished Teaching Award in 1984.
Gilbert-Barness Lecturers
2018 – Raj Kapur, MD, PhD "Caring for the Patient with Hirschsprung Disease: Partnership Between Surgeon and Pathologist"
2017 – Patricia Emmanuel, MD "Molecular Diagnostics for CNS Infections – an Expanding Toolbox for Pediatricians"
2015 – Paul Jedlicka, MD, PhD "Ewing Sarcoma, a Not-so-Simple Oncogene Fusion-Driven Cancer"
2014 – Philip M. Farrell, MD and Michael H. Farrell, MD "Quality Improvement in Screening Programs: A Tribute to Dr. Lewis A. Barness"
2013 – Daniel Ostlie, MD "Evidence-Based Surgical Practice"
2012 – Elizabeth Perlman, MD "Wilm Tumor Development: From Pathology to Genomics"
2011 – David B. Allen, MD "Lessons Learned from the Growth Hormone Era"
2010 – Kondi Wong, MD, Colonel (retired) USAF MC "The Cree Leukoencephalopathy Chronicles: Childhood Gaucher and the Parkinson's Link"
2009 – Carlo Di Lorenzo, MD "What to do with the Child with Functional Abdominal Pain"
2008 – Michael Fritsch, MD, PhD
2007 – Jeffrey L. Segar, MD "Fetal Origins of Adult Disease"
2006 – Pierre Russo, MD "Enteropathies of Infancy"
2005 – Aaron L. Friedman, MD "Genetics and the Kidney: Improving our Understanding of Renal Development, Physiology, and Pathophysiology"
2004 – Dawna Armstrong, MD, FRCP "The Rett Syndrome"
2003 – Phillip Farrell, MD, PhD "Diagnosing Through Screening Using Traditional and Molecular Methods"
2002 – Don B. Singer, MD "Thirty-Five Years in the Amniotic Sac"
2001 – John M. Opitz, MD "In Praise of (Judicious Amounts of) Cholesterol: Lessons Learned from the RSH (Smith-Lemli-Opitz) Syndrome"
1998 – Grant Morrow, MD "Metabolic Diseases: What Goes Around Comes Around"
1997 – Enid Gilbert-Barness, MD "Cardiomyopathy in Children"
1996 – Lewis Barness, MD "Pediatric Smells"
Iams Lecture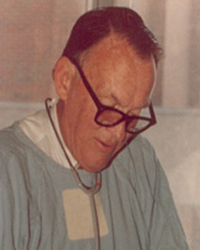 Alexander M. Iams, MD, died February 13, 1984 in his 66th year. He received his undergraduate education at Washington & Jefferson College and his medical degree from the University of Pennsylvania. He completed a postgraduate residency in pediatrics at the Mayo Clinic. Dr. Iams practiced pediatrics in Madison from 1948 until his death. He was a man of many interests. His friends and family established a memorial fund in his honor. It is their wish that the proceeds from that fund be used to establish and maintain an annual lecture series on the practice of pediatrics. It is also the family's wish that camaraderie between community pediatricians be promoted.

Iams Lecturers
2019 – David T. Bernhardt, MD; Nicholas A. Kuehnel, MD; James E. Svenson, MD "Is there a Doctor in the House?"
2018 – Eric Post, PhD, ATC "The Who, What, and Why of Sport Specialization"
2016 – Norman C. Fost, MD, MPH "Current Controversies in Newborn Screening"
2015 – Gregory Landry, MD "30 Pearls for 30 Years"
2014 – Maria A. Stanley, MD "Caring for the Child with Down Syndrome: Health Guidelines and Beyond"
2013 – Hermine Brunner, MD, MSc, MBA, FAAP, FACR "Meet the Professor: Answering Questions about Careers in Clinical Research"
2012 – David Allen, MD "All Fat in Children is Not Created Equal: Epigenetics, Ethnicity, and Ethics"
2011 – Sharon M. Bartosh, MD "Updates in Pediatric Nephrology" and Larry A Greenbaum, MD, PhD "Three Children with Electrolyte problems"
2010 – Carl Stafstrom, MD, PhD "Headaches in Children: Letting Patients Draw Their Diagnosis" and N. Paul Rosman, MD "Neurofibromatosis: The Most Protean Phakomatosis – From Von Reckinghausen (1882) to the "Elephant Man" (1886) to Madison, Wisconsin (2010)"
2009 – Frederick P. Zuspan, MD "Disparity in Preterm Birth" and De-Ann M. Pillers, MD "The Late Preterm Infant: The Newest Frontier in Neonatal Medicine"
2008 – Jeffrey A. Towbin, MD "The Genetics of Cardiomyopathy" and J. Carter Ralphe, MD "Metabolic Syndrome during Childhood: Can Pediatricians Prevent Adult Cardiovascular Disease?"
2007 – Joyce M.C. Teng, MD, PhD "Non-Vascular Birthmarks: When and What to Worry" and Gary P. Williams MD "Uncommon and Confounding Presentations of Common Dermatologic Conditions"
2006 – Dana E. Johnson, MD, PhD ""Orphanage Delays and Disabilities: Deprivation, Disease, Drink/Drugs, Diet or DNA?" and James H. Conway, MD "Infectious Issues in Intercountry Adoption: Evaluating the International Adoptee"
2005 – Diane J. Nugent, MD "Immune Thrombocytopenia: Current Concepts and Novel Therapies" and Carol A. Diamond, MD "What's New in the Diagnosis and Treatment of Hemophilia and von Willebrand Disease"
2004 – Greg Redding, MD "Bronchitis and Bronchiectasis in Children: Considerations of Productive Cough" and Marzana E. Krawiec, MD "Common Etiologies of Interstitial Lung Disease in Children"
2003 – Stephen F. Kemp, MD, PhD "Bone Age Determination: What Can A Bone Age Tell Us?" and Gordon A. Tuffli, MD "Safety and Side Effect Concerns Associated with Growth Hormone Therapy"
2002 – B. Li, MD "Cyclic Vomiting Syndrome: Light Emerging from the Black Box" and Robert H. Judd, MD "Recurrent Abdominal Pain in Children"
2000 – Dr. Jay Iams, MD "Prenatal Management at the Margins of Viability" and Julie Kessel, MD "The Role of the Fetal Immune System in Pre-Term Delivery"
Odell Lecture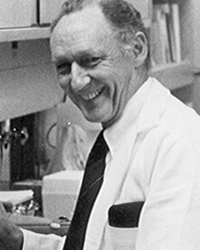 The Odell Lectureship was established in 1994 to honor Dr. Gerard B. Odell, Emeritus Professor of Pediatrics. Dr. Odell was internationally recognized for his research in the field of neonatal jaundice and bilirubin metabolism. In addition to the lectureship, the Gerard B. Odell Research Award was established to honor Dr. Odell's distinguished career in pediatrics research, academics, clinical practice and education. The award is given to an assistant or associate professor of pediatrics in recognition of outstanding research accomplishments and demonstrated potential for future contributions.
Odell Award Winners
2019 – David J. McCulley, MD
2018 – Christian M. Capitini, MD
2017 – Ryan J. Coller, MD, MPH
2015 – J. Carter Ralphe, MD, FAHA
2014 – Daniel J. Jackson, MD
2013 – Judith A. Smith, MD, PhD
2011 – Megan A. Moreno, MD, MSEd, MPH
2010 – Elizabeth D. Cox, MD, PhD
2009 – Theresa W. Guilbert, MD, MS
2008 – Sinisa Dovat, PhD, MD
2007 – Marlowe W. Eldridge, MD
2004 – Christine M. Seroogy, MD
2003 – Pamela J. Kling, MD
2002 – Aaron L. Carrel, MD
2001 – Anna Huttenlocher, MD
2000 – Cheryl P. Sanchez, MD
1997 – Timothy P. Cripe, MD, PhD
1996 – James E. Gern, MD
1995 – Scott Buck, MD and Edward Guillery, MD
1994 – Bruce Klein, MD