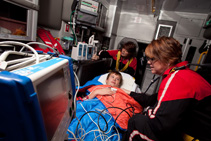 Don't be deceived by the stuffed animals and stickers onboard: American Family Children's Hospital's (AFCH) Emergency Transport Ambulance, or CHETA, is a true pediatric intensive care unit (PICU) on wheels.
Loaded with extensive equipment, including state-of-the-art pediatric monitors, invasive and noninvasive ventilators, and an isolette, CHETA is setup to safely transport even the smallest critically ill child from a regional hospital to AFCH.
It's also now staffed by a dedicated, round-the-clock team of five advanced-trained PICU nurses and respiratory therapists—so like the fast-footed cat it's named for, it's ready to sprint on a moment's notice.
Stabilization as Important as Speed
Pediatric critical care physician Tom Brazelton, MD, MPH, along with respiratory therapist and critical care flight paramedic Stu McVicar, RRT, CCEMT-P, FP-C, have been long-time champions of the CHETA service, which was first established in 2004 but reinvigorated in 2011.
Dr. Brazelton has always had a passion for transport medicine. He worked in emergency medical services before entering medical school, has been on hundreds of neonatal and pediatric critical care transports at UW and other institutions, and sat on the executive committee of the American Academy of Pediatrics' Section on Transport Medicine.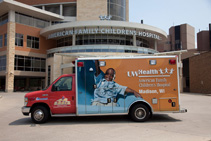 He explained that consistent and reliable, ground-based pediatric critical care transport is essential because for children, stabilization is just as important—if not more so—than speed.
"Because infants and children are so time-sensitive, pediatric transport medicine emphasizes getting a specialized medical team to the child that can evaluate and stabilize that child on site," he said. "If you take the time to bring back a stable child, it often shortens the time he or she is in the PICU."
A Mobile PICU With a Specialized Team
Because CHETA is always ready—it has an average out-of-door time of 18 minutes—referring physicians don't have to identify, and sometimes exhaust, local EMS resources to transport patients.
CHETA can also pick up and transport a child in bad weather, when UW Med Flight isn't flying. And the AFCH PICU team provides telemedicine services to support referring physicians while CHETA is on its way.
But most important, CHETA is truly a mobile PICU, with the specialized expertise and equipment on board to handle any unanticipated events en route back to AFHC. And that means less trauma and better outcomes for critically ill children.
A Busy Service Looks to Expand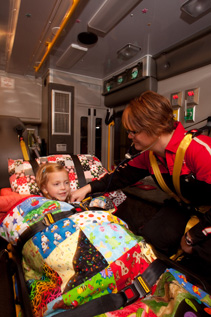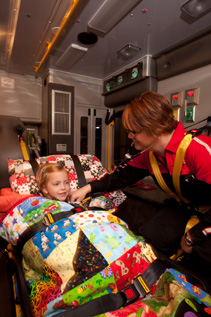 In 2011, CHETA performed 240 transports—nearly double the initial predictions for that year. Most of its transports are within an 80-mile radius of AFCH, although it has traveled as far as Michigan's Upper Peninsula, Green Bay, and Dubuque.
Because the CHETA service is so busy, it's now looking at ways to establish a backup team for when the primary team is out on a transport. In the future, it may also expand the telemedicine service to include video capabilities, so the PICU team can perform "virtual" evaluations at remote hospitals.
But right now, CHETA is getting "rave reviews" from referring physicians, Dr. Brazelton said. "We're providing an important clinical service for community hospitals, but we're also trying to foster collaboration and customer service."
"And because many of the patients we transport on CHETA are chronically ill children that we already know, it just adds another good human touch."