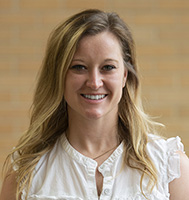 Education
BS, The College of William and Mary, Williamsburg, Virginia
MD, The University of Oklahoma College of Medicine, Oklahoma City, Oklahoma
Residency, University of Wisconsin, Madison, Wisconsin
Professional Activities
Dr. Samantha Cordum is clinical assistant professor in the Division of Neonatology and Newborn Nursery. She works as a newborn nursery hospitalist.
Clinical Interests
Cordum's clinical interests include well newborns and newborns affected by maternal pregnancy complications, infections, and substance use. She is also interested in the education of residents and medical students regarding the well newborn.
Research Interests
Cordum's research interests include newborn car seat and car bed testing, particularly designing a workflow to facilitate follow-up and transition of infants discharged in car beds from the hospital system. Additionally, she is interested in research related to neonatal ankyloglossia and its effect on breastfeeding and latch.