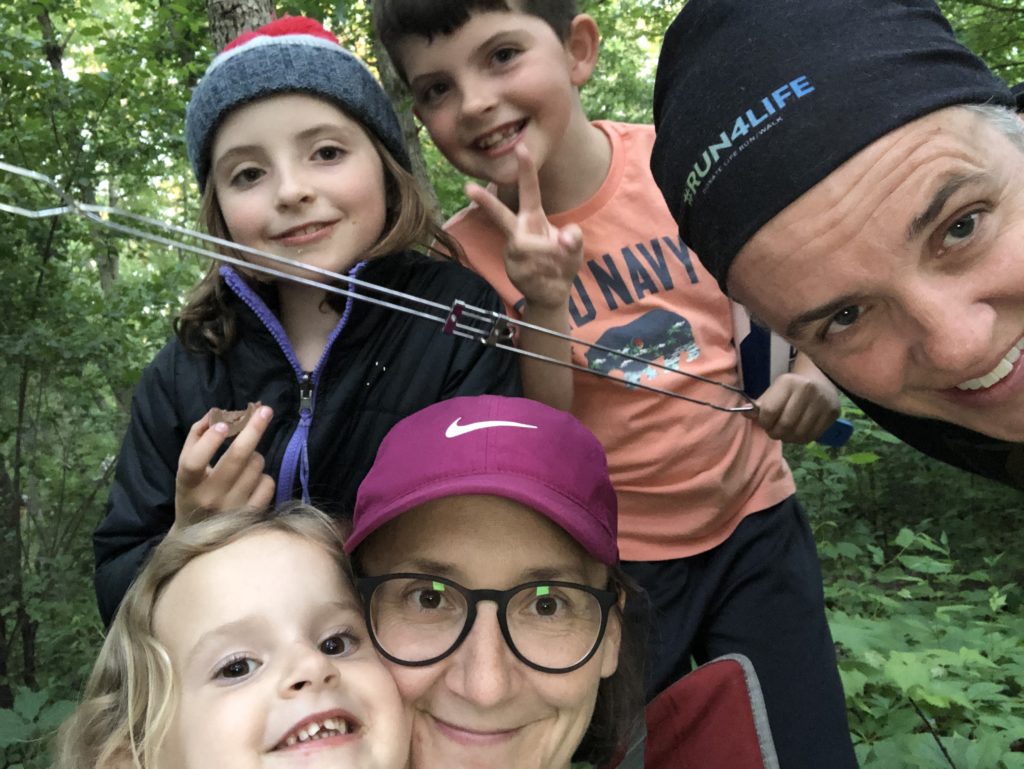 "It's a privilege to be back working at American Family Children's Hospital, a facility that serves as a resource to the entire state of Wisconsin," stated Anne Marsh, MD (Associate Professor, Division of Hematology, Oncology & Bone Marrow Transplant) during a recent interview about her decision to join the University of Wisconsin Department of Pediatrics as a faculty member this past March. Dr. Marsh attended medical school at the University of Wisconsin's School of Medicine and Public Health and completed her general pediatrics training with the Department of Pediatrics. Reflecting back on the education she received as an intern, Dr. Marsh remarked, "it's nice to now be in a position to give back to the people and communities of Wisconsin by contributing to the education of students and providing care at American Family Children's Hospital."
Learn more about Dr. Marsh's background, her commitment to whole-person pediatric care, and her hopes of hosting a Peds Pond Hockey game in the Q&A below.
Tell us about your educational and professional background:
I attended Winona State University in Winona, MN for my undergraduate degree in Cell and Molecular Biology. After graduating, I worked in the Molecular Microbiology laboratory at the Mayo Clinic in Rochester, MN, for a few years before crossing back over the Mighty Mississippi to attend medical school at the UW's School of Medicine & Public Health. I completed my General Pediatrics training here at the UW, and at the encouragement of the lovely Dr. Carol Diamond, went out to Oakland, CA, to pursue my hematology-oncology fellowship training at Children's Hospital & Research Center, Oakland (now known as UCSF Benioff Children's Hospital Oakland).
How did you get into your field of research or clinical specialty?
While in Oakland, I had the great fortune of having trained with Dr. Elliott Vichinsky and colleagues. Their work over the past five decades in caring for people with sickle cell disease (SCD) helped inspire and instill in me a genuine dedication, commitment, and passion for caring for this group of patients who all too often find themselves marginalized and misunderstood in healthcare systems and society at large. I often describe caring for patients with SCD as a career that is the perfect marriage between medicine and social justice, and I cannot imagine a professionally more rewarding combination. Additionally, pediatric palliative care has become an area of interest and focus for me. This interest stems from my training within hematology-oncology and the desire to focus on whole-person wellness and the minimization of suffering.
How would you explain your job to a five-year old?
I usually tell my own kids (ages 7, 7, and 4) that I help take care of sick kids that have to have sleepovers at the hospital.
What's the coolest thing you're working on right now?
Personally, feeling vibrant and alive again after rediscovering what it's like to have balance and free-time in life. Professionally, getting to expand my clinical knowledge and skill set beyond the specialty of hematology-oncology and be involved in the care of children with a diverse array of medical diagnoses. I get to see and learn new things every day and I love that.
What attracted you to UW–Madison?
While we loved the diversity and geography of the San Francisco Bay area, the soul-crushing work commutes, cost of living, and chaotic way of life, left my wife Nikole and I seeking a change that would offer a simpler existence. We both had the opportunity to consider returning to UW-Madison as faculty, and given that our children are still relatively young and adaptable, we decided now was as good a time as any to make a change. Nikole was recruited back to the Division of Transplantation as a kidney and pancreas surgeon and also serves as the Associate Medical Director of Organ and Tissue Donation at UW. COVID-19 aside, I'm delighted to say that life already feels easier for us here in Madison.
What's something interesting about your area of expertise you can share that will make us sound smarter at parties?
Palliative care isn't about talking, it's about listening. Parties can actually be much more interesting when you apply that same principle.
Do you have any hobbies or interests you'd like to share?
Did someone say ice hockey? We love it! Once I perfect the art of maintaining an ice rink on Lake Monona, I look forward to hosting a Peds Pond Hockey tournament in our backyard.