John Frohna, MD
Program Director and Vice Chair for Education
General Pediatrics and Adolescent Medicine
"As a program director for the past 20 years, I have to say that what I love most about this role is my ability to get to know and mentor residents over their time in the program (and beyond!). I have always been impressed by the commitment that our department chair and faculty have to resident education; everyone truly values the work of the residents and works hard to make sure we graduate the best pediatricians possible. As director, I am not content with the status quo – I want this program to continue to evolve and find innovative ways to teach residents."
Dan Sklansky, MD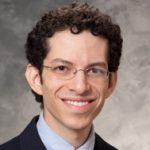 Associate Program Director
Pediatric Hospitalist
"I am a pediatric hospitalist and have been an associate program director since 2012. I am particularly passionate about teaching and practicing inpatient medicine. My goal is to foster an environment in which residents are encouraged to make decisions, challenged to improve, and supported throughout residency such that they become stellar, professional, and resourceful pediatricians by the end of training. I am happy to be living and practicing in such a great city and department."
Emily Ruedinger, MD, MEd
Associate Program Director
General Pediatrics and Adolescent Medicine
"I practice as both a general pediatrician and an adolescent specialist, so I get the unique opportunity to work with residents in outpatient & inpatient settings; in general & subspecialty clinics; and even sometimes in a research capacity. This variety allows me to witness many residents discovering their 'place to shine' in medicine. Something I love about being an APD is the constant opportunity to innovate. Helping the program respond to changing learning needs of our residents, to developments in medical education best practices, and to advances in the field of pediatrics keeps me energized! I was happy to return to the wonderful city of Madison and join the GME crew here in 2019, after spending time in Seattle, the Twin Cities, and Boston."
Adam S. Bauer, MD
Associate Program Director
Neonatologist
"I work as a Neonatologist and as the Course Director for multiple medical student clinical rotations including the Inpatient Acting Internship and Pediatric Intern Prep Course. I've had the great opportunity to complete both Pediatric Residency and Neonatology Fellowship here at the University of Wisconsin prior to staying on as an attending. I am very passionate about medical education, especially in the use of simulation to help support the needs of all of our medical trainees.
My educational mission is to create an inclusive and adaptive learning environment that best supports the goals of all of our medical trainees, while providing an opportunity for our instructors to improve upon their skills at the same time. I am incredibly excited to have the opportunity to work with our amazing pediatric residents here at UW!"
Andrea Jones, MD 
Continuity Clinic Director
General Pediatrics and Adolescent Medicine
Dr. Jones is a graduate of our residency program and a past Chief Resident.  Dr. Jones enjoyed teaching during her chief year and during her time in clinic.  She joined the education team in early March as the new Continuity Clinic Director.