American Family Children's Hospital (AFCH, pictured below) in Madison, Wisconsin, is a comprehensive pediatric medical and surgical center featuring nationally recognized pediatric specialists in a wide range of fields. AFCH provides specialized care in a healing environment designed especially for pediatric patients and their families. The hospital is ranked among the top 50 children's hospitals in four medical and surgical specialties in U.S. News and World Report's 2019 Best Children's Hospitals Guide.
This is where residents spend the majority of their resident training both on the inpatient wards and in the subspecialty clinics.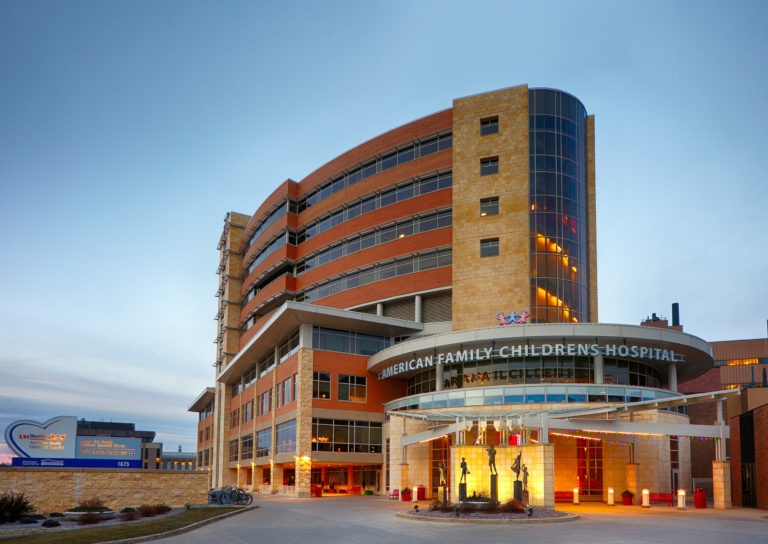 UnityPoint Health–Meriter Hospital is a 448-bed community hospital in Madison that is dedicated to providing comprehensive, coordinated care through their clinics, hospital and home care services for patients located in South Central Wisconsin.
Residents work with University of Wisconsin faculty at UnityPoint Health–Meriter during the neonatal ICU and newborn nursery rotations.
This is an accordion element with a series of buttons that open and close related content panels.
Continuity Clinic - UW Health Clinics
Located between Madison and Sun Prairie, 11 miles from AFCH
5 pediatricians with busy practices, including the full spectrum of pediatric care
Special areas of interest includes global health, international adoption and travel, newborn medicine, ADHD, allergies and asthma, and educating medical professionals on fetal alcohol spectrum disorders
Located on the near east side of Madison
3 pediatricians and 1 behavioral health specialist, taking care of the full spectrum of general pediatric and adolescent medicine
6 pediatricians who all put a very high premium on quality, service, and continuity of care
Located in the center of Madison and near campus; patients include international graduate students and families from outside of Dane County
Clinic population is ethnically and socioeconomically diverse
Located near UW graduate student housing (Eagle Heights), thus the practice is quite multicultural
On any given day you may see a family from Korea, a Spanish-speaking family, a child of a university professor, or a child from a low-income family
Special interests include children with chronic conditions, LGBTQ health, and specializations in sports medicine and adolescent medicine
Located on the near west side of Madison and serves traditional families and families of diverse backgrounds
The clinic is run more on a private practice model with a strong emphasis on teaching
The clinic staff collaboratively works to make the resident experience positive and meaningful, especially for those who plan to practice in a primary care setting
Located on the far west side of Madison with a patient population of various socioeconomic levels, of different nationalities and ethnicities and also of varying educational backgrounds
The pediatricians here put great emphasis on resident and student teaching
Continuity Clinic - Community Partner Sites
Private practice near the UW campus
Multidisciplinary clinic includes internal medicine, OB/GYN, pediatrics, surgery, podiatry, dermatology and GI on site
The pediatrics group is made up of 6 clinicians with a highly skilled nursing staff
Patient demographics include a wide range of cultural and economic backgrounds including the very affluent and the very poor, and including many international families
This clinic experience is unique because it is a physician-owned practice outside the typical HMO model
Located about 10 minutes south of Meriter Hospital or 15 minutes driving time from AFCH
Suburban patient population with a growing Hispanic presence
Fairly typical "private practice" structure with busy and typical clinic volumes by national standards
Specializes in the full spectrum of patients (birth to 22) and pediatric problems
Located on South Park Street and serves patients for whom living in poverty is a common thread
Nonprofit, fully-funded Federally Qualified Health Center whose major mission is to provide superb, accessible health care to families
Each clinic day is filled with challenge as people face illness, a different culture from their own, or financial despair
The clinic is busy, dynamic and at times chaotic
Located in downtown Madison (Capitol Clinic) and in an adjoining city (Fitchburg), this group is a nonprofit, local HMO who aims to provide high-quality health care services
This health care model began with people from our community who envisioned a nonprofit, member-owned cooperative that could bring health insurance and healthcare together for the benefit of members