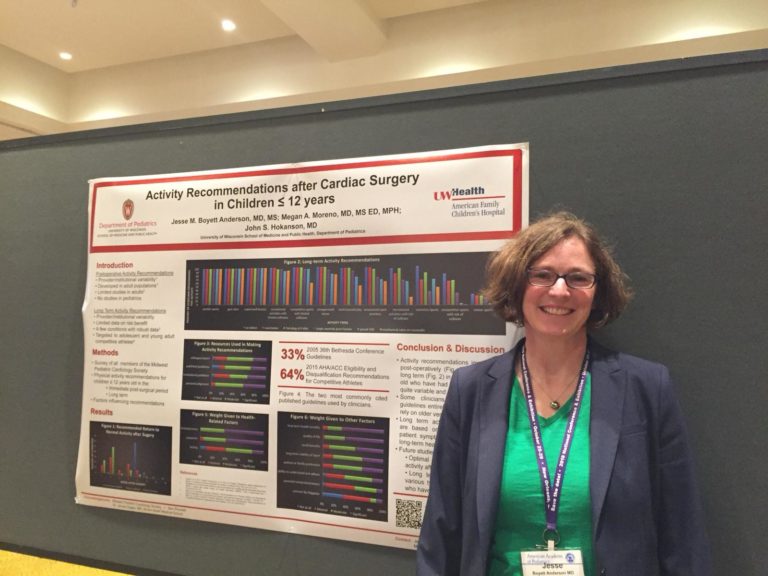 Scholarly Opportunities
As part of residency training at UW, all residents complete a scholarly project that will challenge them to answer a hypothesis-driven question generated by their interests. Opportunities include:
laboratory and clinical research;
quality improvement;
advocacy projects that include a question and outcome; and
educational research projects.
At the American Family Children's Hospital and University Hospital, residents have access to a seemingly unlimited number of research groups, as well as the UW Institute for Clinical and Translational Research. Researchers have been awarded hundreds of millions of dollars of grant money to further medical advances in their fields.
Research Support
Our department provides a variety of support for resident scholarly projects, including:
a faculty mentor who will guide and provide support during all stages of your project;
guidance for grant applications (if needed), protocol development, and IRB approval;
access to a biostatistician while developing your project and analyzing results;
funding for residents to attend national meetings to present their work;
the option to use elective time for dedicated research work; and
workshops to aid in the creation of abstracts and posters.
Resident Scholarly Week
Each spring, the department holds a Resident Scholarly Week. Residents attend teaching sessions on:
how to present your work at a national meeting;
case studies in research ethics; and
incorporation of research into one's career.
Research Day ends Resident Scholarly Week and focuses on scholarly work from residents, fellows, and faculty. The event consists of:
an all-day poster presentation;
a keynote address by a pediatric faculty member; and
a series of oral presentations on select topics.
Recent Resident Academic Projects
The Pediatrics Research Week 2020 Abstract Book is now available. University of Wisconsin Department of Pediatrics faculty, staff, fellows and residents submitted over 50 research abstracts for the virtual conference, which is taking place May 26-29, 2020. …