Hi, I'm Kate, a resident! I would love to show you a typical day at American Family Children's Hospital!
6:00 am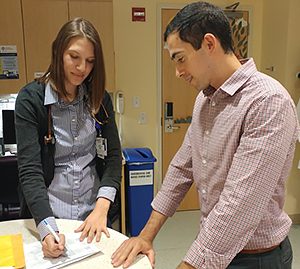 As I wait for my coffee to brew in the resident lounge, I hear about new admissions and the overnight events of my patients during IPASS sign out.
6:00 am-8:00 am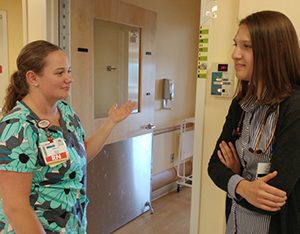 Using Epic HealthLink, I collect the medical data on my patients and discuss overnight events with the nurses. Next, I examine my patients and talk with the families, answering any questions they may have. After creating plans for my patients, I touch base with the senior resident and medical students to make sure we are on all on the same page!
8:00 am-9:00 am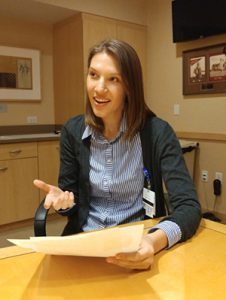 Morning conference time! Whether it is morning report, problem conference, morbidity and mortality, or evidenced-based medicine, I love the chance to discuss interesting cases and hear perspectives from the chief residents and attendings.
9:00 am-11:00 am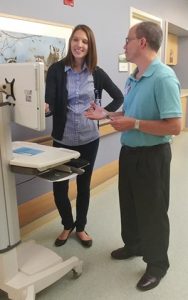 Time for Family-Centered Rounds, which are multidisciplinary rounds at the bedside with therapists, nurses and subspecialty services. The intern leads the discussion and is supported by the senior if needed. I appreciate how everyone, even the family, is a part of the conversation and care plan!  We frequently do on-the-fly teaching between patient rooms for those important one-minute pearls! 
11:00 am-12:00 pm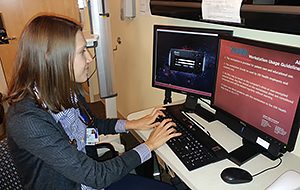 After rounds, we call necessary consults, finish orders, expedite discharges, and wrap up our patient notes…all while listening to music on the overhead speakers!    
12:00 pm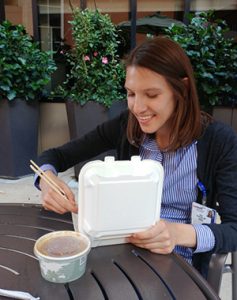 Lunch time! With the varied options for food, I can grab a quick bite and head outside (when the weather allows), to explore the healing garden, sit at a picnic table, or chat with my fellow residents.           
12:00 pm-5:00 pm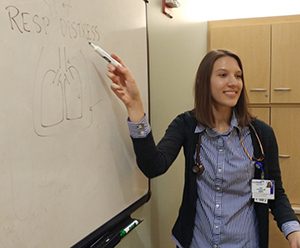 Between admissions, we follow up on our patients, tests, and consults, and adjust management plans as needed. We then finish the remainder of notes and discharge summaries. Between tasks, attendings or residents give a short teaching session or chalk talk relevant to our patients. On Friday afternoons, we have PEARL (our block educational conference). During this conference, our pagers are forwarded to the attendings and we are able to focus on learning while we eat a free lunch!
5:00 pm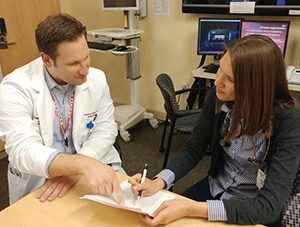 Time for sign-out! We head to a designated room to minimize interruptions. One intern is assigned to cover all the pages during this time, so we can focus on sign out.    
5:30-6:00pm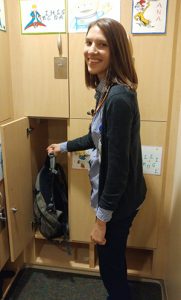 After a busy day, I turn off my pager and head home! While there are many things to do around Madison in the evenings, tonight I am headed to Concerts on the Square (on the grounds of the Wisconsin State Capitol) after grabbing dinner with some friends. Then I will rest up for another day on wards!