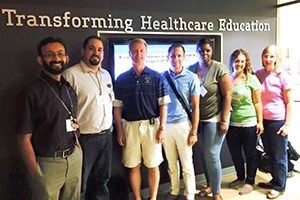 The Division of Pediatric Critical Care Medicine organizes a number of educational opportunities for fellows. Conferences include case conferences, research conferences, journal clubs and mortality and morbidity conferences as well as the Fellows' lecture series. Fellows' lectures are given by division members and invited faculty when appropriate, and cover the majority of topics outlined by the Society of Critical Care Medicine (SCCM) as essential for training.
Educational Conferences and Activities
Weekly: PICU sign-out with the on-service faculty
Weekly: Fellows' lectures; includes monthly cardiac critical care topic
Weekly: Pediatric cardiac surgery/cardiology conference (CME accredited)
Weekly: Pediatric cardiac surgery bedside rounds; discussion of anatomy, embryology, physiology and surgical repair with surgeon and CVICU faculty
Monthly: Interdisciplinary Unit Council (IUC); interdisciplinary quality assurance meeting
Monthly: Case conferences/bedside "Professor Rounds"
Monthly: Mortality and morbidity
Monthly: Journal Club; review seminal articles in Pediatric Critical Care and current literature
Monthly: Research conference; presented by division faculty and/or fellows as well as invited guests
Pediatric Advanced Life Support Course (biannually): Certification and achievement of instructor status (CME accredited)
Advanced Trauma Life Support Course (ATLS)
Society of Critical Care Medicine in-training examination (annually)
Department and Hospital Conferences
Weekly: Pediatric problem conference
Weekly: Pediatric grand rounds (CME accredited)
Monthly: ACGME-mandated core curriculum series covering biostatistics and evidence-based medicine, research study design, principles of adult learning, professionalism and ethics, health care systems, and career development and leadership skills.
Other Conferences and Courses
Emergency Medical Services for Children Regional Symposium
Pulmonary and critical care conferences (weekly)
Campus-wide research conferences
ECMO specialists course (3-day course)
Neurorespiratory seminar (weekly)
Arndt Advanced Airway course (annually)