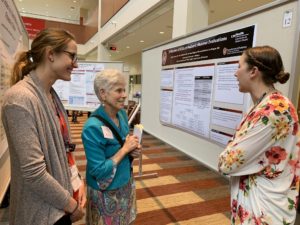 Scholarly work in GPAM focuses on work to advance child health. This work includes traditional research, with specific areas of focus around health services, digital health as well as medical education. Our scholarly work also includes a focus on QI, leveraging the opportunity that our Electronic Health Record and patient registries offers for this work. We have a strong teaching focus in our division, with several faculty doing medical education research as well as providing innovative teaching opportunities in advocacy and global health.
Education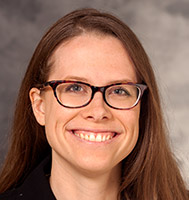 Jess Babal, MD
Jess Babal, MD is a general pediatrician at the 20 South Park Clinic in Madison, Wisconsin. Her academic work examines the culture of medicine and influencers of professional well-being. She aims to advance the medical humanities in the educational and professional setting (e.g. narrative medicine, reflective and creative writing, the creative arts, history and philosophy) as a way to foster thriving and advance patient care. She teaches the 2-week medical student elective: Introduction to the Medical Humanities.
Her publications have evaluated storytelling and limerick writing in resident education; factors that contribute to pediatrician wellness; factors that contribute to student pharmacist wellness; and gender bias in teaching evaluations. Along with her colleagues, she edited a textbook, "Understanding and Cultivating Well-being for Pediatricians."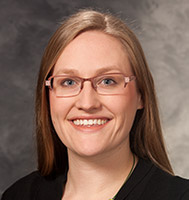 Ande Jones, MD
Ande Jones joined the GPAM division in 2017, after serving as chief resident here in Madison. After a few years working as a general pediatrician to Madison's east side at UW Health Union Corners Clinic, Ande was delighted to rejoin the residency education group in 2020 in becoming the Continuity Clinic Director. She is passionate about teaching medical students and residents in her clinic, and is looking forward to continuing to work on strengthening residents' outpatient education experience. She will continue projects working on:
Biannual reports on resident clinical activity, include data on number, age and gender of patients and types of visits, with next steps to focus on making continuity clinic experiences more robust, to include adequate diversity of exposures and learning, as well as improving continuity.
Working with and mentoring residents participating in the Primary Care Pathway
Residents receive family/patient feedback in spring and fall, which are incorporated into their semi-annual reviews.
GPAM Faculty TOP 25 teachers 2020-21
Each year our pediatric department asks trainees to vote on top teachers and the top 25 teachers are named. We are proud of the GPAM faculty who were voted as top teachers for the 2020-2021 academic year!
Jessica Babal, MD
Deirdre Burns, MD
Tim Chybowski, MD
Patricia Deffner-Valley, MD
Karen Hillery, MD
Laura Houser, MD
Sanjeev Jain, MD
Kristen Marten, DO
QI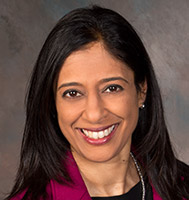 Mala Mathur, MD, MPH
Dr. Mathur's interest in quality improvement includes a population health based approach to address gaps in care between evidence based guidelines and current ambulatory pediatric practice. Over the years, she has worked on quality improvement projects including: implementing routine developmental screening within the medical home, addressing health literacy within ambulatory care clinics, creating workflows during well child checks for transition of youth from pediatric to adult health care, developing workflows and EMR changes to implement chlamydia screening, and promoting care coordination for youth with ADHD through Shared Plans of Care. She has also served as faculty for three statewide/regional quality improvement collaborative projects to increase HPV vaccination rates through the Wisconsin Chapter of the American Academy of Pediatrics. Dr. Mathur has presented her work at the Pediatric Academic Societies Meeting, the American Academy of Pediatrics National Conference and Exhibition and the Wisconsin Collaborative for Health Care Quality Assembly Meeting.
Past projects include:
Boosting Primary Care Awareness and Treatment for Childhood Hypertension: Through national quality improvement collaborative and local partners, we are working to increase awareness of elevated blood pressures during routine ambulatory office visits and creating workflows with our pediatric subspecialty colleagues on how to manage these elevated blood pressures and treat pediatric hypertension.
Assessing Acceptability to learn about Mindfulness within the Pediatric Medical Home: Conducted a survey of 3,000 parents across the U.S. to assess their knowledge, beliefs and willingness to learn about Mindfulness within the Pediatric Medical Home. In addition, used survey data to assess willingness of parents with children diagnosed with asthma to learn about Mindfulness techniques as a way to reduce stress and improve asthma symptoms.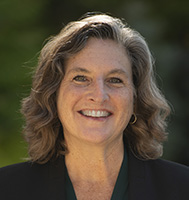 Karen Pletta, MD
Dr Karen Pletta's primary academic interest is in pediatric asthma. She is working with the GPAM Asthma quality team on work flows to increase Asthma Action Plans to patients during well child visits and to improve asthma outreach. She has presented posters related to pediatric asthma quality at the AAP NCE conference in 2016, local and statewide conferences, the Pediatric Academic Society 2018 and will be presenting at the AAP NCE conference 2018. Recent and current projects include:
longitudinal evaluation of the EHR Asthma Registry and patient outcomes
Case-control study evaluating GPAM asthma patients who did and did not have ER visits over the past 2 years ER to determine if there are factors that could reduce need for asthma ER visits.
Evaluating Asthma Action Plans effectiveness/value for families for work days, school days and home/daycare management.